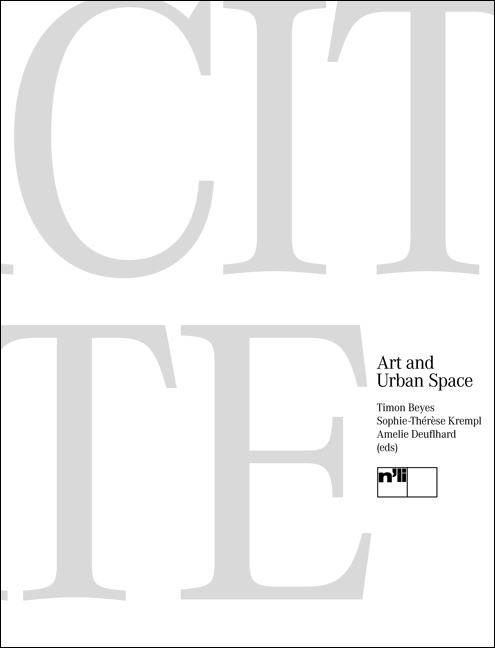 English

,

400

Seiten / Pages,

ca. 170 illustrations

,

16

x

21

cm,

hardcover with jacket
–

Timon Beyes, Amelie Deuflhard, Sophie-Théruse Krempl (eds.)
ParCITYpate discusses the effect and impact of art in urban spaces and is dedicated to city lovers and art lovers alike.
For more detailed information, please refer to the German description below.
Was bewirkt Kunst im Stadtraum, und wie können wir diese Wirkungen neu diskutieren? ParCITYpate richtet sich gleichermassen an Stadt- und Kunstinteressierte. Abseits der ausgetretenen Pfade der kunsttheoretischen und städtebaulichen oder stadtpolitischen Diskurse bringt das Buch Künstler, Kuratoren und innovative Denker des Städtischen und Räumlichen zusammen. Anhand aktueller Beispiele werden neue Sichtweisen auf die Effekte und Affekte von oftmals temporären und ephemeren künstlerischen Arbeiten im Stadtraum zur Diskussion gestellt. Jenseits des Lobes oder der Kritik partizipativer Stadtentwicklungsprozesse beteiligen sich künstlerische Interventionen an der Produktion von Stadtraum, indem sie potenziell neue urbane Handlungsmöglichkeiten eröffnen.
Mit Beiträgen von Atelier für Sonderaufgaben, Christian von Borries, Ulrich Bröckling, Giovanni Carmine, Dave Clark, Com&Com, Marcus Doel, Barnaby Drabble, Pierre Guillet de Monthoux, Tim Kammasch, Doris Kolesch, Daniel Libeskind, Martina Löw, Mieke Matzke (She She Pop), Dorothee Messmer, Christoph Michels, Sibylle Omlin, raumlabor berlin, Daniel Richter, Rimini Protokoll, Christoph Schäfer, Edward Soja, Chris Steyaert, Nigel Thrift, Kathrin Wildner und Ulf Wuggenig.