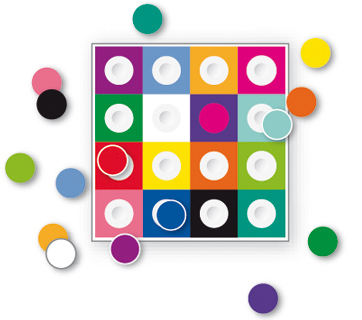 Availability: 91 in stock
This game is a useful tool for every designer to try and test different color combinations. At the same time it offers astonishing insight into the field of color perception for the everyday user. The developer is a specialist in the fields of color theory and color perception. By releasing a chip from one of the five colored boards and place it on a different-colored background, its color suddenly appears different to the one it had in its previous environment.
It shows that you don't need a theoretical framework to observe the amazingly versatile interaction of colors. All you need is a keen eye and a willingness to try out playfully different variations. Offering fascinating combinations for each of the 80 colors, this product is not only an ingenious amusement, but also the perfect tool for everyone working with colors.