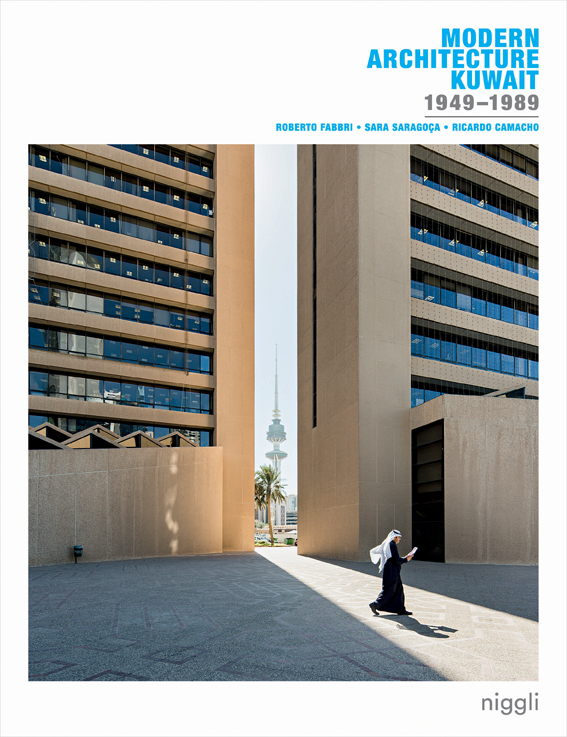 Availability: 915 in stock
Englisch | Arabisch

,

416

Seiten / Pages,

827 Images

,

20

x

26

cm,

Softcover
–

Roberto Fabbri, Sara Saragoça Soares, Ricardo Camacho
–
Modern Architecture Kuwait 1949–1989
_ First systematic analysis of Modern Architecture in Kuwait
_ All projects from important international and local designers
_ Chronological organization of the buildings into four chapters
_ Biographical section listing designers, planners and contractors
_ Timeline relating to the regional context
From the late 1940s to the late 1980s Kuwait experienced an extraordinary social and civic transformation, deeply reflected in its urban environment. The complete demolition of the Old City centre and the comprehensive redesign of the urban form, together with the creation of the new neighbourhood units, catalysed the attention of major international designers working in synergy with local firms and authorities and leaving on the ground important examples of late Modern Architecture.
As Kuwait gained independence and autonomy, the necessity of a new landscape to represent the freshly founded state grew high. A new urban environment was envisioned for a new state, therefore architects found here the possibilty to expand their professional horizons and the challenge to compose an entire city, building by building, almost from scratch. By following the professional trajectories of major practitioners and by reading the presence of the building in the urban context at the architectural scale, the study offered in this book examines and analyses a wide selection of buildings, finally presented as an architectural atlas. The repertoire of more than 150 projects, spanning over 40 years, is revealed as a collection of specimens, selected for their specific qualitative aspects, as examples of particular design methodologies or typologies, or else for their different adaptations to the severity of local environmental conditions.
This publication, supported by the prominent Kuwaiti institutions Dar al-Athar al-Islamiyyah and Kuwait Foundation for the Advancement of Sciences, is based on several years of research, which included on-site visits, photographic surveys and interviews with architects, planners, contractors, historians, and former city officials. The analysis was also supported by extensive archival investigation, which provided old city plans, drawings, original photographs, film footages, correspondences, legal documents, contractors' brochures, architectural and construction press, journals, local magazines, popular press and a range of other documents.