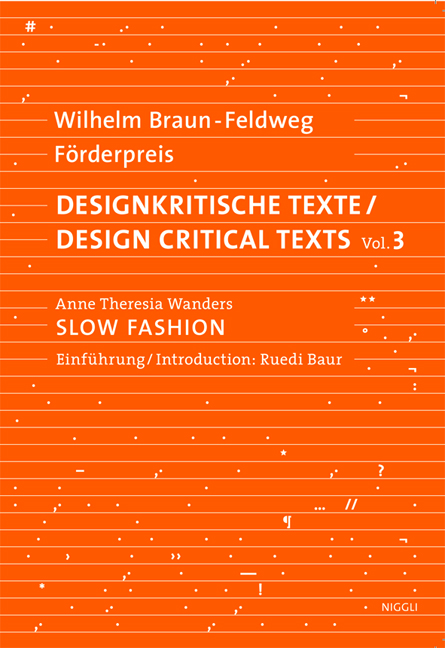 Availability: 100 in stock
German / English

,

160

Pages, ,

13.5

x

19.5

cm,
–
Anne Theresia Wanders: Slow Fashion
As a part of its series Critical Texts on Design, every year Niggli Verlag publishes the text selected for the Wilhelm Braun-Feldweg Prize. This award for critical texts honors students and graduates of design programs who make a stylistically accomplished and insightful contribution to design discourse with an essay that critically examines issues of special importance for the design industry. The award is named after the industrial designer, artist and professor Wilhelm Braun-Feldweg (1908–1998), who significantly advanced this field.
This year, Anne Theresia Wanders won the prize with her text Slow Fashion. In her text she examines sustainable concepts for the fashion industry. Without mor- alizing, the author discusses the possibilities for alternative design work in an open manner and fresh language. The training of creative professionals in environmentally friendly design, open source concepts and networking, as well as the most direct possible production methods are among the main points addressed in the text.
«I was fascinated by the analysis and the creative manner in which the problematic attitude of our society towards design was examined. […] Here we have something very close to to a fundamental reflection on the future of sustainable design as an alternative to the ethically untenable ideology of global marketing.» Ruedi Baur