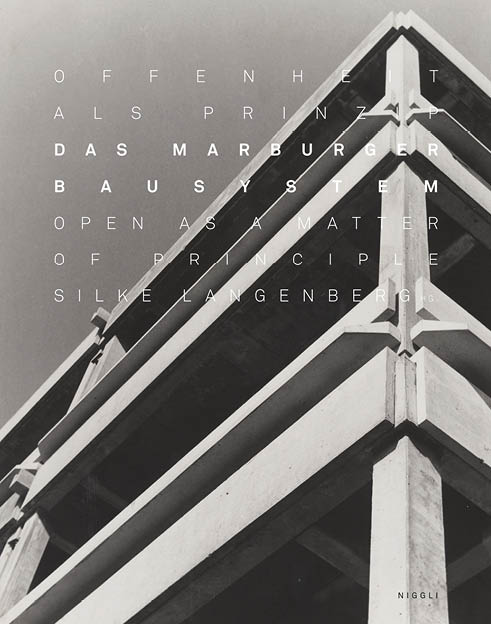 German/English

,

208

Seiten / Pages,

approx. 100 illustrations and plans

,

23

x

30

cm,

Clothbound hardcover with dust jacket
–
The Marburg Building System
Open as a Matter of Principle
The Marburg Building System has been one of the earliest, and is probably one of the internationally best known German building systems. Originally developed by Helmut Spieker for a diploma thesis on university construction at the University of Kiel, and modified for the expansion of the University of Karlsruhe, the construction system was for the first time fully realized in 1961/1962 on the Marburg Lahn Hills. It marks the beginning of a construction boom doubling the building stock of German universities.
The aim was to create an open, fully flexible construction system that would satisfy the needs of the end users as well as offer the possibility for later modification or extension. The Marburg Building System requires a fully standardized building method and according to its conception has to be regarded as a neutral system, completely independent of its location or use, as multiple schools, a highway gas station and service area near Fulda or the DFB's administrative building in Frankfurt prove. The system is flexible, adaptable and extendable, all building blocks are standardized, pre-fabricated, easy to mount and demount. This even facilitates larger-scale repair and renovation works.
This publication aims at bringing the building system back to the attention of experts and fans of good architecture. The topic is all the more up-to-date as the University of Marburg was recently declared a building of historic interest and thus protected by built heritage conservation.