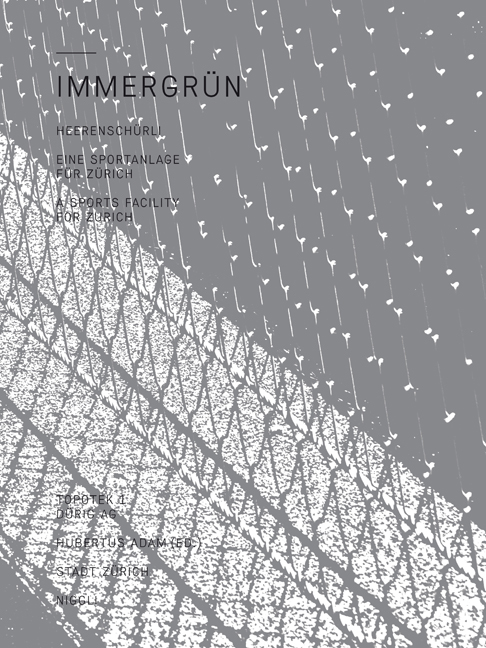 Availability: Out of stock
German / Englisch

,

120

Seiten / Pages,

more than 70 illustrations

,

21

x

28

cm,

Swiss binding, paperback with leaves and included plan documentation (48 pages)
–
Immergrün – Heerenschürli
A sports facility for Zurich
A sports facility as an urban location: in rapidly growing Northern Zurich, a facility appeared in 2010, which sets new standards. It meets the changed requirements of recreational sport and comprises grass football pitches, a baseball field, a changing-room building with public restaurant, a depot and skate facility.
Beyond the needs of sport, what emerged here is a free urban space with public open areas and street zones, which connects the surrounding residential neighbourhoods with the neighbouring landscapes and presents an artificial form of nature. The new Heerenschürli was realised according to designs by the team of Topotek 1 Landschaftsarchitekten (Berlin) and Dürig AG Architekten (Zurich).
This publication includes photographic series by Hanns Joosten, Nicole Zachmann and Beat Bühler, texts by Hubertus Adam, Julia von Mende, Daniel Kurz and Claudia Spinelli and an interview with Martin Rein-Cano (Topotek 1) und Jean-Pierre Dürig, as well as separate plan documentation.