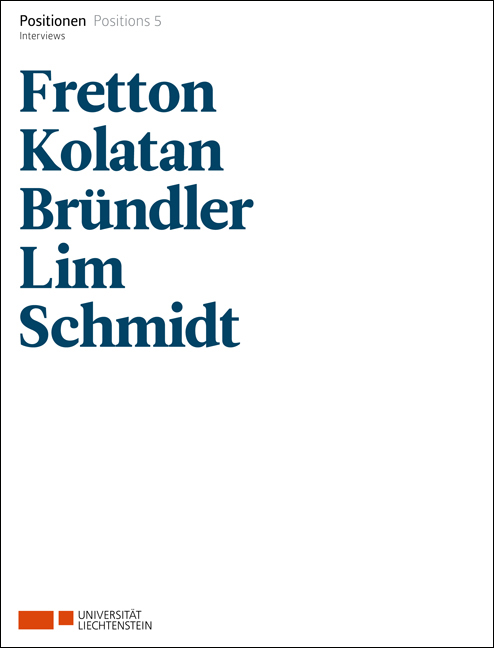 Verfügbarkeit: 99 vorrätig
German / English

,

192

Seiten,

more than 60 illustrations

,

16

x

21

cm,
Erscheinungsdatum:

06

/

2012
–

Universität Liechtenstein / Peter Staub (ed.)
Interviews Tony Fretton, Sulan Kolatan, Andreas Bründler, CJ Lim, André Schmidt
This book of interviews is a compilation of different attitudes and approaches to architecture. In personal conversations conducted with guest lecturers at the University of Liechtenstein since 2009, Sulan Kolatan (KolMac Ltd, New York), Tony Fretton (London), Andreas Bründler (Buchner Bründler Architekten, Basel), CJ Lim (Studio 8, London) and André Schmidt (ex OMA, Beijing) speak about their architectural work. The conversations focus on the themes of the respective lecture series. While Tony Fretton and Sulan Kolatan discuss the role of craftsmanship in their architecture, the dialogues with CJ Lim, Andreas Bründler and André Schmidt offer insights into the challenges that European architectural offices are confronted with when building in Asia.